Dungeon RPG

Author:




"Moro"

, one of members of "MSX•FAN" team




Release:




"MSX•FAN" Oct. 1990 Issue



F1 key: Show a MAP using M.P., Space key: Exit from that MAP screen, Y key: Yes, N key: No,
A key: Attack, D key: Defend, R key: Run away from the enemy, M key: Remove the enemy using M.P.
Features:
•
A real-time battle system, reminiscent of the later "active time battles".
In addition to reducing damage from enemies while you are defensive, you can accumulate power up to 3 times and your attack power can be tripled.
If you get attacked in the middle of saving your power, your attack power value will be restored, so sometimes it's better to hurry up and attack.
If it looks like the enemy is about to attack you, you can defend yourself and wait.
Your HP would also slightly heal every you defend.
Thus, you can't fight in favor of only hitting the A key in succession. It would be hard to get bored.
•
Positions of boss enemies, called "King", are determined at random, and they continue to move from there at random.
At first there are rats called Isuka, whose boss also prowls the same floor. You must defeat the boss to level up.
(The maximum value of your HP will be increased by the number of maps you get, though.)
The closer you are to the boss, the higher the sound you hear as you move, so you'll have to rely on the sound to find him.
•
The use of graphics (pictures) instead of sprites for the enemies' figures is very powerful.
The code that has to be typed becomes enormous, but it seems to be a heavily used technique in commercial titles.
My suggestions for English version: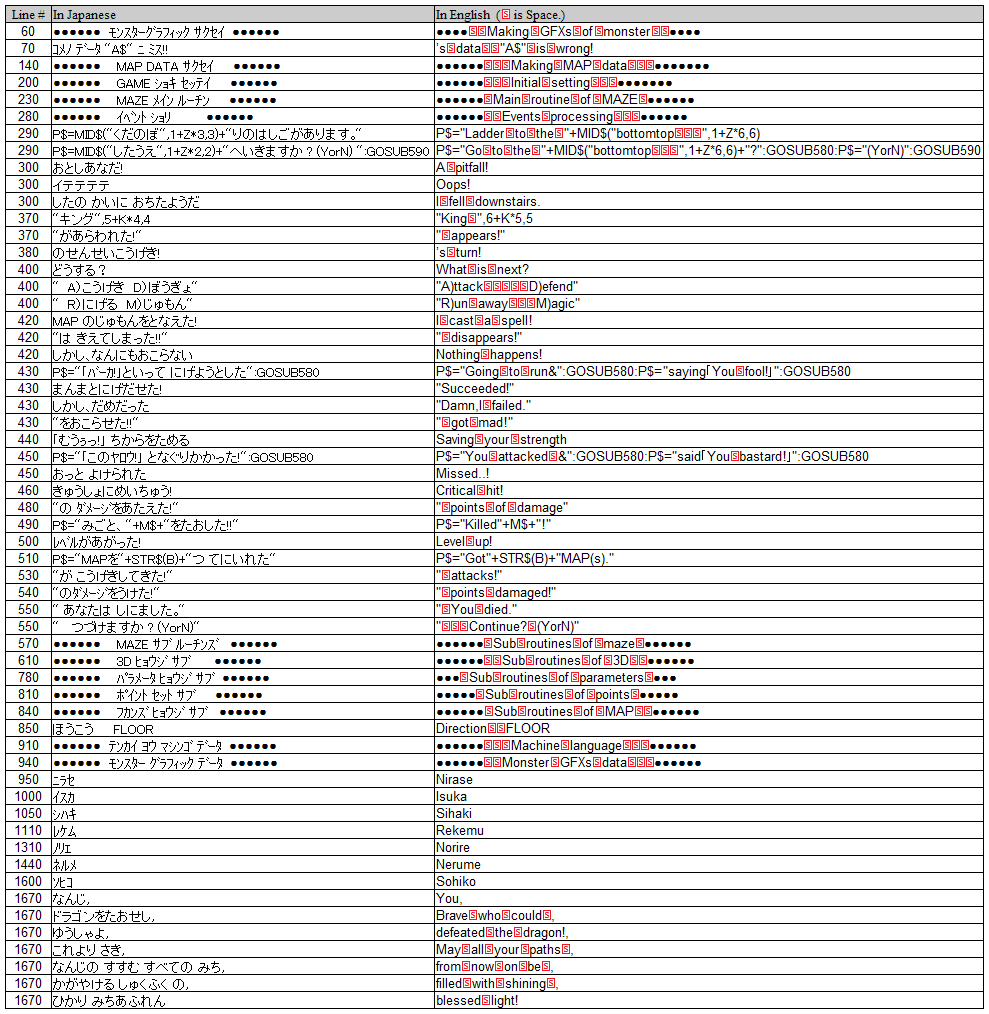 If we modify the code as described above, each checksum will change as follows.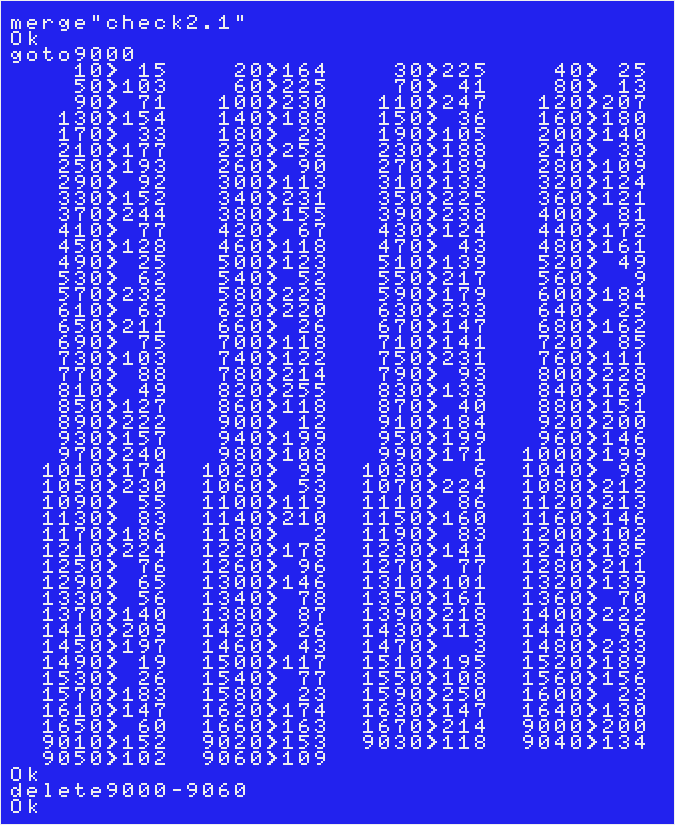 I tested the above modified data, including the ending,




and had no problems.



Too difficult?
You may want to modify the data of the first rats (Isuka) that appear in the game until you get used to the game system.
I think this enemy is a bit too tough when you're level 1. Once you get to level 2, though, it's not so hard.
Anyway, Isuka's variables are in the line #1000.
You can also see maps
here
. ..."It's enough!", you say?
Monsters' DATA:
| | | | | |
| --- | --- | --- | --- | --- |
| | Name | Isuka | First appearance | The first battle of the game |
| Line # | Interval | Basic HP | Power | Address of picture |
| 1000 | 40 | 45 | 5 | 50, , |
| X-coordinate | Y-coordinate | Showing its figure | Y-coordinate of Message BOX | |
| 85 | 123 | 35, 43, 380 | 34 | |
| | | | | |
| --- | --- | --- | --- | --- |
| | Name | Sihaki | First appearance | As the King when you're Lv.2 |
| Line # | Interval | Basic HP | Power | Address of picture |
| 1050 | 50 | 60 | 12 | 90, , |
| X-coordinate | Y-coordinate | Showing its figure | Y-coordinate of Message BOX | |
| 67 | 38 | 70, 27, 475 | 102 | |
| | | | | |
| --- | --- | --- | --- | --- |
| | Name | Sohiko | First appearance | As the King when you're Lv.3 |
| Line # | Interval | Basic HP | Power | Address of picture |
| 1600 | 70 | 95 | 20 | 120, 100, |
| X-coordinate | Y-coordinate | Showing its figure | Y-coordinate of Message BOX | |
| 64 | 38 | 76, 27, 516 | 102 | |
| | | | | |
| --- | --- | --- | --- | --- |
| | Name | Nirase | First appearance | As the King when you're Lv.4 |
| Line # | Interval | Basic HP | Power | Address of picture |
| 950 | 100 | 130 | 35 | , , |
| X-coordinate | Y-coordinate | Showing its figure | Y-coordinate of Message BOX | |
| 80 | 124 | 44, 42, 465 | 34 | |
| | | | | |
| --- | --- | --- | --- | --- |
| | Name | Norire | First appearance | As the King when you're Lv.5 |
| Line # | Interval | Basic HP | Power | Address of picture |
| 1310 | 90 | 230 | 50 | , 100, |
| X-coordinate | Y-coordinate | Showing its figure | Y-coordinate of Message BOX | |
| 81 | 107 | 42, 59, 662 | 34 | |
| | | | | |
| --- | --- | --- | --- | --- |
| | Name | Nerume | First appearance | As the King when you're Lv.6 |
| Line # | Interval | Basic HP | Power | Address of picture |
| 1440 | 160 | 100 | 85 | 50, 100, |
| X-coordinate | Y-coordinate | Showing its figure | Y-coordinate of Message BOX | |
| 68 | 109 | 69, 57, 986 | 34 | |
| | | | | |
| --- | --- | --- | --- | --- |
| | Name | Rekemu | First appearance | As the King when you're Lv.7 (The final boss) |
| Line # | Interval | Basic HP | Power | Address of picture |
| 1110 | 130 | 420 | 100 | 165, , |
| X-coordinate | Y-coordinate | Showing its figure | Y-coordinate of Message BOX | |
| 67 | 90 | 69, 80, 1385 | 30 | |
>>
Return to the "Type-in MSX programs" page