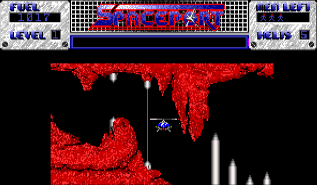 For example, the point in the left screen.
This is a situation where you want to avoid traps by moving slightly in a narrow passage that is dangerous unless it is facing vertically.
At this time, if you turned sideways unintentionally, you crashed into a wall or trap.

Note:

Fuel is not refilled along the way. If you run out, the game is over and you will go to the title screen.
Floating droids can be destroyed, but turrets cannot.