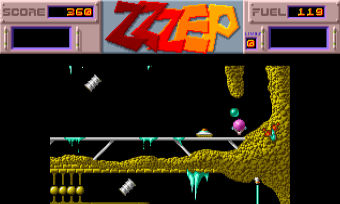 For example, the point in the left screen.
A blue-green ball is also an obstacle, but if you break it, you get 1 UP.
However, since it comes from the vertical hole in the upper right, you cannot break that ball from the right.
(The moment you turn to the left, your ship will crash into that ball or wall.)
Therefore, you will pass under the ball while facing vertically.
In the middle of this, as soon as the left key is input strongly,
your ship will turn to the left and will collide with that ball or wall.

Note:

If you destroy the drum in the left screen, the fuel will be refilled.
Any turrets and droids cannot be destroyed in this game.