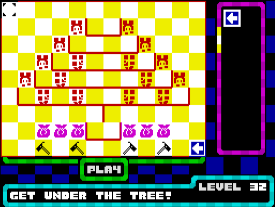 There is also a Christmas-like map.

"Chu Chu Rocket", an addictive puzzle said to have been invented by a new graduate of SEGA.
This arrangement is now available in ZX Spectrum!
The directional and decision keys can be redefined to any key.

For example, A: move left, S: move right, W: move up, Z: move down, M: decide.

When you move the cursor to any square, place the arrow panel there.
If it is "Left" arrow, then press M and A. If you want to retrieve it, press M and A.
If you press the Z key again from the bottom row, the cursor will move to "PLAY".

Gifts (as mice) and Hammers (as cats) are going to start proceeding all at once.
The key difference from the original is the difference in their walking speed.
There are some tricky strategies that take advantage of this time difference. Recommended.