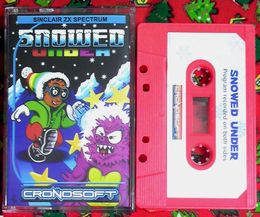 STORY:

It's November 30th, and young Tim has made a terrible mistake.
Tricked into opening a window on his advent calendar a day early by Santa's evil brother,
Krampus, he triggers an extra-dimentional portal and is pulled inside.
He now finds himself trapped in a Christmas nightmare.
His only hope of escape is to make his way through each day of the calendar,
collecting the stars that will unlock the window that leads to the next one.
If he can reach December 25th and unlock it, he will be free of the spell,
and his Christmas will be saved.
However, he is not alone - the Krumpus minions are determined to freeze him out,
and if they succeed, Tim will find himself Snowed Under, destined to become one of them forever.