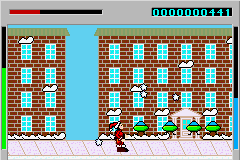 Released: January 2007 Developed by : Unknown.
This game was created for Drunken Coders Xmas Coding Competition 2006.

Control your Santa and pick / throw snowballs.
You can also jump and change the range of snowballs, however,
actually you don't have to do, I think.
Only you have to do is getting closer (to avoid enemies' snowballs) and defeat enemies.
Nothing happens even if you guide Santa to the right of the map. Sorry, nearly unplayable.