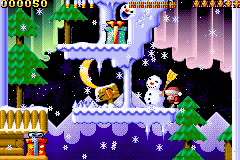 Released: March 2003 By Spoutnick Team (webpage...external link)

Do you remember "Rick Dangerous", Core Design's legendary Amiga game?
In recent years that original title was ported to other consoles, such as Genesis and 32X.
To our surprise, this game was released on GBA long ago, in 2003 !
This "Dangerous Xmas" was created by Spoutnick submitting for the GBAX.COM 2003
compo and took second out of more than 50 entries! We can play this xmas edition controlling
Rick in two ways, the same as original Amiga version (one button pad) and GBA's one.