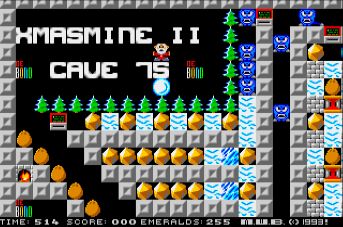 There are classic action games called "Boulder Dash", which was originally hits in arcades and on 8-bit consoles,
and has many deep-rooted fans. (I'm not, though.)
The Amiga had a commercial release of "Emerald Mine" in 1987,
and it has since become a fixture as the "Emerald Mine" genre of games.
The goal is to get all the gems on the map,
but taking one of them will cause an avalanche of other gems, and if you get crushed by it, you'll die.
Those new maps that keep being created by fans are the kind of difficulty for veterans and require exquisite control of the main character.
This title is no exception, as the map structure itself is "well thought out" and difficult.
Fortunately, if you choose your name as the first player, you'll be able to choose all levels, so let's just enjoy the Christmas-spec characters and obstacles at best.