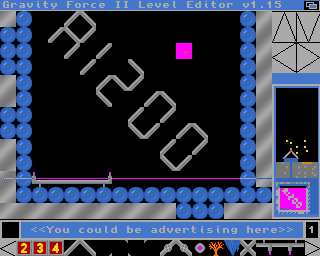 There is a level editor coded Richard Franks.
It is free downloadable from Jens' website.
(Again, Jens Andersson is a coder of "Gravity Force 2"&"Gravity Power".)

At least it seems easy if we create our own levels using tiles created initially.
Extract that archive, then copy files to df0:GP .
Don't forget to copy following files:
"asl.library", "mathtrans.library" and "explode.library" to df0:Libs
"IconX" to df0:C

First you should do is loading tiles.
Then the program asks which level you want to load.
You can either edit level existed or create a whole new level.