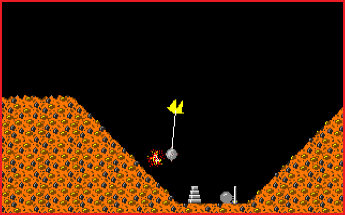 About movements of the ship, amazingly,
there's no difference between this game and C64 game "Thrust".
In this game our ship can take a spike ball. And we can hit it against enemies!
The spike ball can also disable enemies' bullets, so it also become a shield.

After the spike ball is caught in the wall, the wire would be cut.
We can take the spike ball again by getting close to it
and pressing T key (or "down" after you enable joy2key2 as setting above).
What should be specially mentioned is that we can change a length of the wire
depend on the distance when we catch a spike ball.
For example, to go through a narrow path, we should release a spike ball once,
then catch it again at very close range.
The wire would be shorter, so we can control both our ship and a spike ball easily.