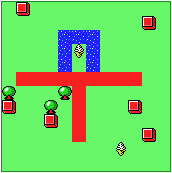 •
When you hit a bomb with a bomb, a blast will be generated, just like a bomb in "Bomberman".
When this blast hits another bomb, it can cause a chain of bombs to explode.
However, bombs floating in water will not explode.
The blast turns the iced floor into water, but items must not be hit by the blast.
Trees will burn and disappear when hit by the blast,
but only once they'll protect the area behind them from the blast.