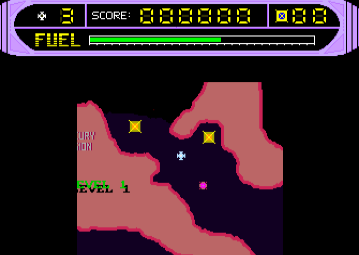 Shareware full version created in 1994.
The case is, "I will give you another voluntary game when you send money."
At present, it is a free game.
You can choose to play it with "Assassins CD 3" for CD32,
or play it by transferring ADF into your own diskette.

In a word, this game is a cave exploration with your own aircraft of Amiga's free game "Tractor Beam".


The purpose is to collect the gems scattered on the map while floating against gravity
(10 gems in the 1st level, 5 gems in Level 2~9).
Avoid walls and mines along the way.  The soberness cannot be denied.