Oids (Unofficial Amiga port)
Basic DATA
| | |
| --- | --- |
| Author (Original ST version) | Dan Hewitt |
| Amiga port by: | Meynaf |
| Ship | 1P mode only. Instant death. You have 5 ships. No continue. No passwords. |
Controls

Keyboard (Initial setting.
Strongly recommend to redefine.)

CD32 Pad (using joy2key2)



Rotate left



Left-arrow

left

Rotate right



Right-arrow or z or x

right

Thrust



Right-Shift or Up-arrow

up or Blue button

Nuclear Pallets



,

Red button

Nova Bomb



.

Tap Red button

Shield



Down-arrow or Left-Shift

down

Recharge shield by using fuel



Space

--

Pause



Esc

--

Quit



q

--

For CD32+FDD users:
Download oids.lzx from Meynaf's webpage. Create a blank diskette in advance.
Extract oids.lzx (using "LZX_68020r". "LZX.Keyfile" must be in "L" folder assigned.) .
Create a new folder named "galaxies". Copy all files which have ".oids" extensions to "galaxies" folder.
Then copy "galaxies" folder (.oids files inside) and other files to your diskette.
In addition, create "Libs" and "S" folder in that disk.
Then download this pack, then extract and copy files to that disk.
( "lowlevel.library" must be in "Libs" folder. "startup-sequence" must be in "s" folder. )
Thus you can thrust by Blue button.



Note 1: NTSC console users would suffer pain. In NTSC mode, the gaming speed becomes too sluggish.


In PAL mode (on your NTSC CD32), it might take much more time to close the title screen shown above.
Note 2: If you use this oids.cfg to make Blue button available to thrust, don't redefine keys at the menu screen.


The author originally created this game inspired by "XPilot" (External link).
So he was going to code for "2P combat style". However, the development was discontinued.


The menu screen: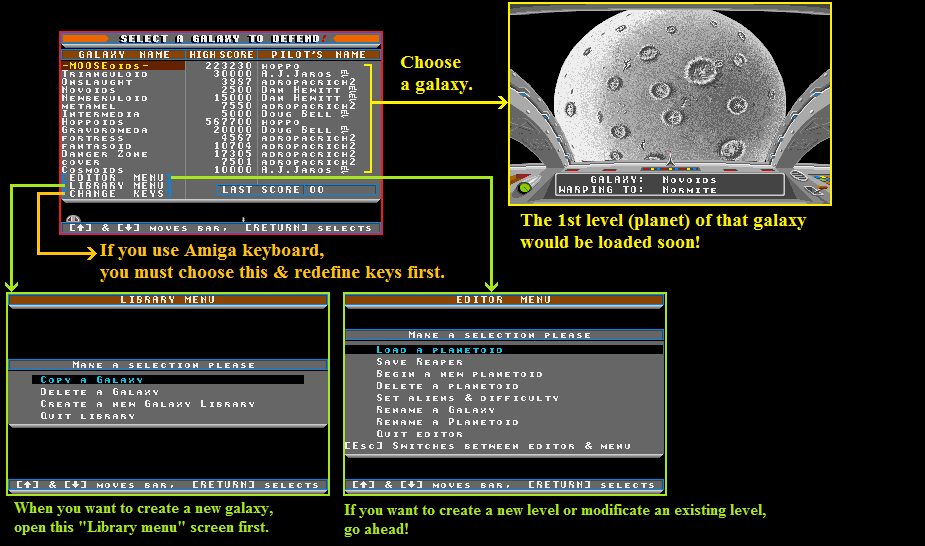 The game screen: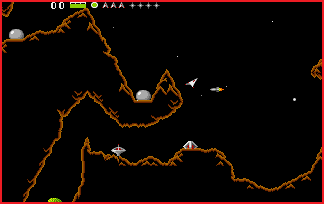 >>Return to the "Thrusters' hangar" top page