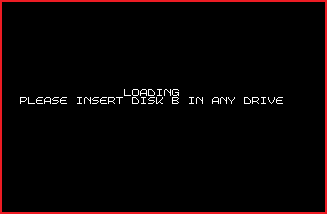 After you insert Disk A , it shows "Starbyte" logo screen and title picture screen.
In principle, it should show the loading screen as a screenshot on the left.
However, actually it doesn't show "Please insert Disk B in any drive." message.
( It only shows "Loading" message forever. )
Of course nothing happens after you insert Disk B.
I don't know what's wrong about it,
anyway I can say that this startup script is uncompatible with Analogic FDD.
On the other hand, nothing happens if you boot with no startup-sequence.
( It doesn't show Amiga DOS screen. It shows a black screen forever. )
We need another choice to play the game...