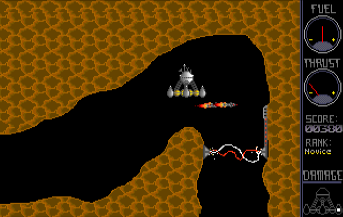 Unusually for the Lander series, your machine has a means of attack.
However, the missile flies in the direction your ship moved just before, and its maneuverability isn't very good either.
The scene that requires it, however, is the point in the left screen (only one location in Stage 2),
where you destroy the switchboard next to it in order to disable the blitz trap.
As an idea, it's totally OK.
After all, there is a problem with the speed of your aircraft!
Although it has some durability, it will lose control when it hits a wall once and bounces strongly against another wall.
In reality, it's better to be able to say that "almost instant death".
On landing, if you are not slowing down abnormally, you will die. You will say "Eh? No even this!?" I guess.
And although you will go to the title screen every you die, you can not skip the score ranking screen.
It repeats "die immediately, wait for a long time, die immediately, wait for a long time".