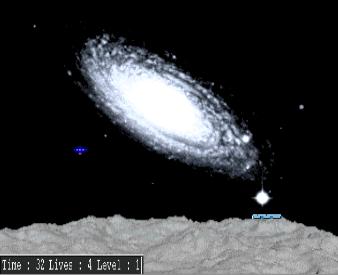 Your aircraft is a UFO type blue vehicle.
The purpose is to operate this and gently land on the goal point.
In Level 1, the scenery reminds us of "Lunar Lander".
Slow down sufficiently and land on a flat surface on the moon.

If you are not slowing down, you will be told "Kamikaze Speed."
Since the speed at the time of landing is determined
by both the vertical movement speed and the horizontal movement speed,
if it lands while moving horizontally, it may be a mistake.

If you crash into a wall, touch the edge of the screen, or time out, you will make a mistake,
but at that time, depending on the situation, a voice such as "Out of space!" will be played.