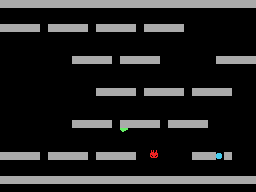 A number of personal produced games for the MSX had been submitted to magazines,
regardless platformers or not, in which the player controls a blob, however,
this game is the only platformer in which a blob moves like a blob.
This game is also one of the games that were called "single screen programs" of 960 bytes or less.
For a beginner typing MSX games, a "single screen program" would be a good practice.
However, if you are planning to play on a retro game console such as CD32 or SNES, it is not suitable for beginners to practice.
This is because the command called "On Sprite Gosub" does not work with MSX emulators that work with those consoles.
Since these emulators are old and not updated, the game needs to be modified to match the emulator's specifications.