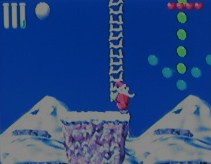 Area13: OIR33
This is the fourth time of "Ice Building". What I want to mean is that there are only three different backgrounds that are repeated four times each. Isn't that frustrating?! (Lol)
Look at a location of this screenshot where scoring items show to go down.
I scrolled down the screen, but the bottom was still there, so I couldn't see what was going on.
I thought, "Well, I'm being guided down, so let's try falling down," and to my surprise, there is a needle mountain at the bottom.What the hell does this fucking game want?
There is also a hole that becomes a living hell if you try to descend because of no hints.
And the goal of this level, unlike the others, is not a door, but a specific hole. Huh...?!