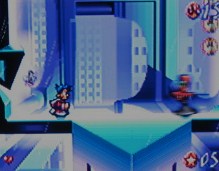 From here, you can see surreal backgrounds that I'm not sure where.
The group of levels I mentioned earlier was a graveyard, and thought, "Why a graveyard on Christmas?".
On the other hand, the difficulty becomes high, with scene after scene of "If you fall, you die instantly". And you've already known cons of the control of the game, right?
The realization that the more you play with inertia, the more frustrating it becomes.
The aerial controls are outstanding, though!