Christmas Theme Park Special



Bullfrog. You've done it this time!


It should be called Coverware", distributed only as a cover disc for the December 1994 issue of CU Amiga.
That's exactly what you had to buy the magazine to play it.
However, it's this website's judgment that it's well worth it.
The Amiga magazines have always been kind enough to include Christmas-themed freeware on cover discs for the Xmas season.
All of them seemed to be completed soon or boring.
Especially since 1992's Psycho Santa, also presented by Bullfrog, was a bit of a disappointment, but in a good way this time.

You'll actually need a blank 880KB diskette.
This coverdisk contains the game's dms file and "DMS" command,
which can transfer the game into that blank diskette with a single press of the Enter key.


Various Christmas elements:
I'm going to present them by the broad elements.
The only thing to note as you start the game is that you need to be careful.
For the first few moments, you must follow the instructions.
(From the location of the attractions to the placement of the toll booths!)
If the game deviates even slightly, the story doesn't progress and you have to start the game over.
I think it's meant to be a tutorial, but I got the impression it was rather a bit strange.
Once that's over and the screen is freely scrollable, anything is possible.
Let's have some fun!

Attractions
| | | |
| --- | --- | --- |
| | | |
| Bouncy Castle | Santas Groto | Ghost House |
Shops


Balloon World

They sell balloons.
Here, the balloons are in the shape of Santa Claus (see image above).
As more and more visitors arrive, the entire theme park is filled with Santa's balloons.




Mr.Xmas Pud

No foodstuffs synonymous with fast food would appear, and those round Christmas puddings is sold!
I'd actually like to try something like walking through a Christmas all-colored theme park
with Christmas dessert in hand!


Objects
| | | | |
| --- | --- | --- | --- |
| | | | |
| Weeping Tree | Palm Tree | Oak Tree | Lake |
*The biggest tree in the world has flickering ornaments. I love it!

Staff members


Handyman

They are going to clean up all the trash that our customers have dropped on the side of the road.
They're wearing a Santa hats.



Mechanic

They'll fix broken attractions. When we get to scale, we must hire more people!
This staff members are also wearing Santa hats for Christmas.



Santa

This is, oh, totally old men in a Santa Claus costume.
They're entertainers who make customers happy while saying "Ho, Ho, Ho...!"



Snowmen

They protect our theme park from villains and spies. I think you won't be using them
if you play the game only for a short time, but it's fun to place them as Christmas objects.



It become to go something like this.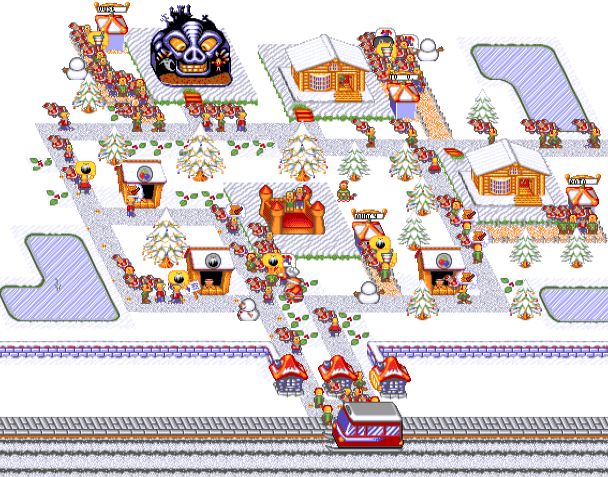 ...This... This makes me smile naturally...


>>Return to the "Christmas Games" main page